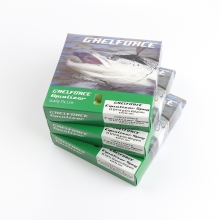 GAELFORCE Equalizer supreme quality 83ft / 25.29m head range was specifically designed and extensively tested with today's modern angler in mind, a high performance durable line.
A superbly balanced, practical and user friendly Spey line range, comes in sizes 8/9# 9/10# 10/11# from 53 grams/817grains to 59 grams/910 grains
The authenticity of the designs for practical everyday use is guaranteed as all GAELFORCE products have been specifically tested in real world situations by experienced anglers.
"Place our experience in your Hands"

Showing 1 to 3 of 3 (1 Pages)