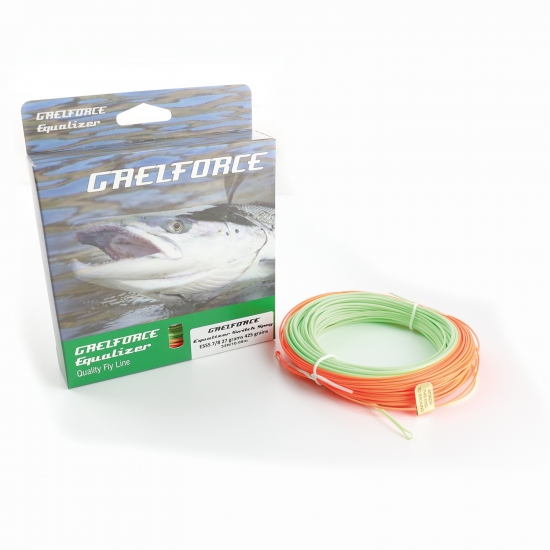 New Coming soon!
Equalizer ESSSH "Hover" Switch & Short Spey line 33ft /10.05m 7/8# 27grams 425grains
The GAELFORCE Equalizer ESSSH Hover is not just suited to Switch rods, this is a fantastic Short Spey line on two handed rods up to 14ft the 9/10# will cast and turn over a 10ft poly leader with ease giving you a seamless Short Spey line of 43ft. for smaller rivers.

The GAELFORCE 'Equalizer' ESSSH Hover 33ft Switch & Short Spey lines have been specifically designed with practicality, perfect equalized balance, and efficiency in mind. These three key attributes built into the design and development of this range of Switch & Short Spey lines ensure that the line will consistently maintain loop shape throughout its entire length, prevent line sag, and present the fly with a delicate presentation often essential for good fly-fishing. Spey Casting has often been described as an art form, the Equalizer range of Spey lines help you to better realise your Spey casting potential.
GAELFORCE 'Equalizer' ESSSH Hover Switch & Short Spey lines incorporate specialised design features including –
Ground breaking proprietary formula coating

applied to a unique super supple line core, allows the line to fish sub surface, shoot further, containing a slickening agent which migrates to the lines exterior ensuring slickness and giving enhanced durability.

Front and rear compact welded loop,

a very neat and strong welded loop front and rear for easy changeovers or for adding tips, it passes through the rod guides with minimum disturbance.

High visibility Twin coloured

with slick running line, helps to easily identify the optimum loading point ensuring consistent casting.

Highly advanced tapering system

allows for perfect "Equalized" balance during flight, generating higher line speed, tighter loop formation and effective turnover, with or without tips.

Reinforced rear tapering

prevents cracking at the hinging point of the colour change allowing the line to be used consistently with a short overhang,incorporating all the benefits associated with an effective rear taper, line speed, distance shape etc .



The authenticity of the designs for practical everyday use is guaranteed as all

GAELFORCE

products have been specifically tested in real world situations by experienced anglers.


"Place our experience in your Hands"



Model:

ESSSH78

Weight:

0.25kg

Dimensions:

120.00mm x 140.00mm x 30.00mm