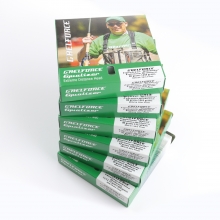 GAELFORCE 'Equalizer' Extreme Distance heads are the Ultimate in distance casting efficiency. The combined knowledge, expertise and experience of the GAELFORCE Team has been collectively gathered and incorporated into these extraordinary aerodynamic one piece fly lines. You can now benefit from our long experience in this field and there is no longer any need to buy two or three fly lines to cut and splice in order to produce a world class distance line. Designed, developed and extensively tested, these lines have produced World Champions and combined World Records. A must have if Extreme distance is your aim.
Distance casting is continually progressing, with participation and achievable distances on an ever upward trend. Only a decade ago 50 yards with an 18 footer from a platform was good enough to win something, today a 50 yard cast in a deep wading competition with a 15 footer would not even get you a top 10 qualifying spot. This a perfect example of how the bar has been raised in line development and designs. In order to be competitive you must be prepared to keep evolving.
Breaking News 4th & 5th September 2021.
GAELFORCE Equalizer Extreme Distance Heads EED80 Beast & EED85 Altitude Have just broken the 15ft & 18ft World Record, also created the new combined World Record cast left/right hand Speycast in Hemsedal Norway.
15ft 1in. World Record: Geir Hansen cast 65.5m right single Spey with the Equalizer EED80 Beast line.
15ft 1in World Record : combined left/right hand Speycast : Geir Hansen & Vidar Ness 122m.
18ft World Record: Geir Hansen cast 77m
Mammoth Distances which deserve huge congratulations.

In San Francisco 2016 at the Speycasting World championship finals, I and many others had the privilege to witness Gerard Downey of Team GAELFORCE casting a breath taking combined total score of 724 feet with four casts in all 4 disciplines, this was with a 15 foot rod wading in 34 inches of water with a 40 degree angle change. These distance achievements are a piece of history, which are officially on record. Progression is the only thing that will break them now and this is our goal, to provide the distance lines to make this possible. "Cast Long and Prosper"
GAELFORCE 'Equalizer' range of Extreme Distance Products have been expertly designed and developed by the most successful distance casters of all time, to help fellow distance casters achieve their goals.
"Place our experience in your Hands"