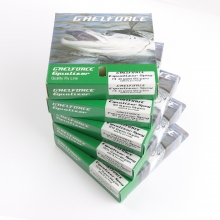 The GAELFORCE 'Equalizer' Spey & Switch line range represents a practical combination of the most user friendly and efficient head lengths to cover any of your salmon fly-fishing requirements.
They are Dual or Triple coloured lines depending on the head length. Colour changes allow the angler to easily identify the optimum loading point that suits them. 'Equalizer' Spey & Switch lines come with a factory made compact loop front and rear enabling a trouble free set up, and allowing quick riverside changes of tips, leaders or lines.
Spey lines are seen a little less on our rivers nowadays due to the recent upsurge in the popularity of shooting heads. However an effective, practical and well balanced Spey line will always have a place on our rivers. The exceptional performance and profile characteristics of the new GAELFORCE 'Equalizer' Spey & Switch line range, combined with the use of the latest technology in new supple yet durable coatings, make this high performance and quality Spey & Switch line an invaluable asset to the salmon angler, whether novice or experienced.
The authenticity of the designs for practical everyday use is guaranteed as all GAELFORCE products have been specifically tested in real world situations by experienced anglers.
"Place our experience in your Hands"