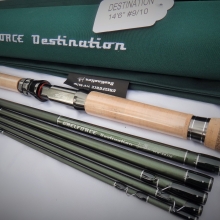 GAELFORCE Destination 6pc Fly Rods.
Designed with travel and versatility in mind, the ultimate in user friendly Salmon and Switch rods. The GAELFORCE Destination 6pc travel rod range are superb, incorporating all the qualities associated with the finest new graphite materials incorporated into the blank design, the rod is strong, light in hand,very well balanced and has a deep flex into the butt section with the ability to recover very quickly enabling consistent efficient casting.The strong tip and the deep progressive action, makes this a fantastic fishing and casting rod.The strong tip lifts the line easily from the water without side deflection, and the deep progressive action makes casting and playing fish a real pleasure.The specific blank design characteristIcs of this modern all purpose rod do not place any restrictions on which type of line it is suited to, the GAELFORCE Destination 6pc range are equally capable of casting suitably matched floating or sinking Spey lines, Shooting heads and Skagit lines incorporating today's modern casting techniques as well as the more traditional styles.
These are truly remarkable rods with no compromise to the rod action or performance. A true modern progressive actioned six piece rod produced using advancements and innovations in carbon fibre and resins,incorporating precision ferrule design and fit ensuring joints don't continuously come loose. The most pleasing part for me during the long testing phase of the Destination range was that I managed to catch several Salmon, with seven in excess of 25lbs, the rod performed flawlessly subduing the fish with consummate ease. A six piece Destination rod is a very advantageous way to take your rod in your suitcase, or as hand luggage, ensuring you have no charges from the Airlines, but more importantly that your rod arrives with you at your Destination.- James Chalmers.
Designed for the connoisseurs of fine fly rods with all the characteristics of true performance and efficiency.
The authenticity of the designs for practical everyday use is guaranteed as all GAELFORCE products have been specifically tested in real world situations by experienced anglers.
"Place our experience in your Hands"
Showing 1 to 9 of 9 (1 Pages)