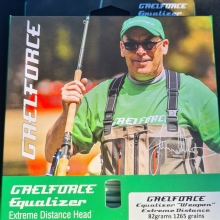 Following the remarkable success of the World Record Breaking Equalizer EED80 extreme distance line, the most successful distance casting line of all time, I would like to introduce the all new Equalizer "Weapon" 80ft/ 24.38m 82gram/1265grns Extreme Distance line into the Gaelforce stable.
This new specialist one piece line has been specifically designed for use with powerful 15 to 16 foot rods, the new line profile and unique supple coating excels in distance casting environments.
The "Weapon" 80 incorporates a new one metre longer finer front taper and slightly heavier belly which enables you to adjust the weight and length variances for your particular needs without affecting the lines performance, speed and turnover at extreme distances.
The line can be custom cut from the front or the rear depending on the tolerances you require for the casting depth and situation you find yourself in,whilst not affecting performance balance or shape.
The line also lends itself to be fine tuned to rods capable of casting long belly lines in extreme distance fishing situations.
Due to the technical complexities of producing a such a heavy smooth un blemished line, with large diameter body portions centralised within the core over a large length,tolerances are difficult to achieve consistently, therefore target weights for all these lines are + or - 20grains, (this does not affect the front taper part of the line in any way, largest diameter body only.)
"Place our experience in you hands"
The Milestones to achieve or better.
Breaking News 4th Sept 2021,World Record achievement in Hemsedal Norway.
15ft 1in. World Record: Geir Hansen cast 65.5m right single Spey with the Equalizer EED80 Beast line.
15ft 1in World Record : combined left/right hand Speycast : Geir Hansen & Vidar Ness 122m.
"Breaking News" 18th August 2018, The Gaelforce Equalizer EED80 line broke the 15ft World Record at the 2018 World Speycasting Championships in Port Haverig England in the capable hands of Tommy Aarkvisla of Norway, with a magnificent cast of 64.5m or 211feet 7.3inches!! with a right hand Speycast.
"Breaking News" Combined winning score Spey O Rama April 2016 Gerard Downey 724ft.
Showing 1 to 1 of 1 (1 Pages)